Scooter Rental in Menorca
Europe » Spain » Balearic Islands » Menorca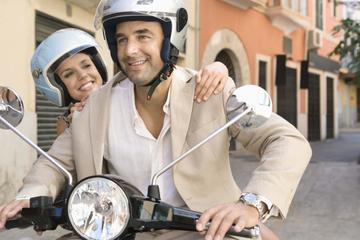 Duration: Varies
Departs: Menorca, Spain
Price from USD 55.79
Book Now
Hire a scooter in Menorca (or Minorca) and explore the gorgeous Balearic Island at your own pace! With one helmet and a map included plus a choice of durations from 24 hours to seven days, the rental experience offers everything you need to explore Menorca with ease. Ride alone or with a second passenger to discover tranquil island scenery at sites such as Son Bou beach, and discover the urban charms of cities and towns at Mahón, Fornells and Ciutadella.
Make your own way to one of the designed meeting points before leaving with your scooter and helmet. All scooters allow a second passenger, and a second helmet (mandatory) is included. Pick up a complimentary map, leave the rental shop (or hotel) and head out to explore the island independently.

Unlike a tour, you decide where to go and when you want to stop! Select a 24-hour rental for a full day of sightseeing, or upgrade to a 2-, 3-, 4- or 7-day rental to suit your vacation plans. Base your route around some of the attractions and sights described below, or speak with the friendly staff at the airport to plan out longer itineraries.

The most serene of Spain's beautiful Balearic Islands, Menorca boasts a largely unspoiled landscape with secluded beaches, hideaway coves and rocky caves — all waiting to be discovered. The island is small enough to be covered in a day by scooter, or you can get to know it by renting for a lengthier duration and lingering over its highlights a little longer.

If visiting Menorcan idylls such as Son Bou beach, Cova des Coloms (caves) and the Calle Macarella coves don't form part of your plans, why not set out to discover the island's urban delights? Ciutadella, on the western coast of Menorca, is the island's largest city in terms of population and is home to a beguiling Old Town and historical port. Lose yourself in the pretty streets, and maybe stop for photos at Plaza Nova, Plaza Espanya and the Cathedral of Ciutadella.

The viewpoint of El Toro, the capital of Mahón and the island's gastronomic center of Fornells are all visit-worthy, too.

When your rental finishes, simply return your scooter (with a full tank of gas) and helmet back to the rental staff at the designated meeting point you selected.
« All Activities